Hair Restoration Treatment
Hair Loss & Restoration Treatment Center in San Diego
No more side effects! Finally there is a perfectly safe and natural way to stimulate hair growth without the disadvantages of medications. SkinBar uses a cutting edge, non-toxic method of hair restoration for men and women who are suffering from receding hair lines, bald spots, thinning hair, dry hair and even flaky, itchy scalp.
Jet Peel /Jetop Solution – this completely painless, refreshing and revolutionary system exfoliates, cleanses and infuses your scalp with a deep penetrating stream of active ingredients such as Redensyl, Capixil and Pomegranate which are built from herbal compounds, peptides and antioxidants and can increase hair growth up to 214%, a better proven result than Minoxidil! Your program will consist of ten weekly treatments and then maintenance as needed.
What Is The Jetop Solution and How It Can Benefit Your Hair?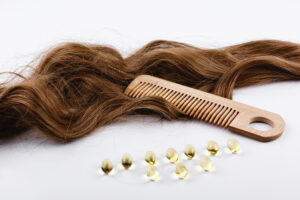 It is stated that more than 50% of males and females suffer from alopecia (baldness) at some point in their lives. While the reason behind hair loss can be diet, stress, or medications, the most common cause is genetics. In fact, heredity is the reason behind 95% of the cases of baldness among people.
While hair loss is such a concern, there are treatments available that may help you restore your lost hair.
Jetop solution
The Jetop solution used by hair transplant specialists utilizes a patented nozzle to deliver Redensyl deep into the scalp for hair restoration. Redensyl, a natural bio-active special compound made of herbal ingredients that enhances hair growth by 200%, is used in this hair restoration treatment. Redensyl is relatively better than Minoxidil.
The jet peel and serum are effective ways of treating the scalp without facing any pain. It helps to attain a significant improvement in just 7-10 treatments.
The Jetop treatment consists of two steps:
1) Exfoliation
It is a distinctive micro-jet cleaning method that provides deep cleaning, effectively removing the dead cells from the scalp and excessive oil. This way, the scalp gets cleaned and can effectively absorb the benefits of the Jetop solution. The micro-jet action allows for microcirculation, increases the blood flow of the hair follicles, and energizes hairs while also lowering tension and stress.
2) Infusion of Jetop solution
Once the scalp is clear, clean and the microcirculation of blood stimulated, the vital active ingredients can be absorbed effectively. The Jetop solution allows easy delivery of valuable ingredients that enhance the scalp's nourishment and stimulates hair growth, giving you a dense and thicker hair look.
Here are some of the active ingredients present in Jetop Serum:
Redensyl: A substance made of natural ingredients that target fibroblast and human stem cells in the derma paella, encourages hair growth, and relieves hair loss. Redensyl has better-proven results than Minoxidil and can be the go-to option for people seeking hair loss treatment. Infact, Redensyl encourages hair growth by 214%.
It shuts down inflammatory reactions, metabolically boosts dermal papilla cells, and relatives bulge stem cells. The hair becomes denser and thicker, improving the look of the scalp.
Capixyl: It is a complex chemical containing biomimetic peptides combined with extract from red clover. It targets the main reason for hair fall. The major isoflavone in red clover, biochanin, controls chronic inflammation and is an antioxidant protecting the skin and scalp from free radicals.
Pomegranate: Highly rich in antioxidants, it revitalizes dry and dull hair strands while also protecting it from harsh chemicals and environmental pollution. Its inherent properties reconstruct and strengthen the hair follicle, encourage hair growth, and provide a denser and fuller look to your hairs.
The hair restoration treatments costs around $300. However, the cost may vary depending upon various factors. For the best results, a series of approximately ten sessions are prescribed.
Struggling with the constant hair fall that is defaming your overall personality? Well, don't fret. SkinBar along with its highly versed team would get back your lively personality through the hair restoration method. Reach out via call or mail to us to get started with hair treatment.
Once a month treatments plus 20% off on products.  6 month commitment.